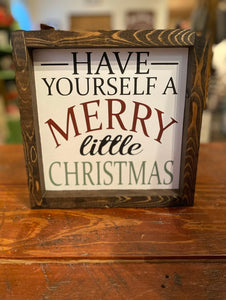 Bring Christmas cheer to your home with this one-of-a-kind, hand made wooden sign. Featuring the classic phrase, 'Have yourself a merry little Christmas', this sign is expertly hand painted for a unique charm. Perfect for the holiday season.
Framed, Handmade, Hand Painted, 
Dimensions:  8x8,10x10, 12x12, 14X14 (add 1 1/2" to each side for frame)
Attached/Cut Out Hanger on Back.
**IS THERE A SIZE YOU ARE LOOKING FOR NOT LISTED?  MESSAGE US FOR SIZE AND PRICE QUOTE**